Donations to Charities
Today I received an email from one of my good friends about some donation to one of his patient who is suffering from cervical cancer. Her husband is a carpenter and really poor, can't even afford to go for proper checkups in India.
I always thought how I can help these people who are in desperate need of help. I thanked a lot to Dr Suman for letting me know about her condition and decided to donate some money. I know my donation may not be a huge help to her but it will surely help her fight little more against the cancer.
Hence I thought more and wrote this post. I want to help so I also need money. I looked around and thought what are the options left for me to make some money, I always denied to my friends and relatives that I will never have any kind of ads running on my blog but what a better cause to run ads than this. I openly promise to everyone that whatever I make from this blog will be donated for some true reasons. My first appeal to everyone please do not click on ads thinking that this money will be going for a good cause so lets click it. NO, this is not a good reason.
Disclaimer: I will never mention how much I have donated to whom but I will surely keep an account of my earning from this blog and keep adding to the page about the people or organizations that I donate to. I will donate to whom, when and where will be totally my decision. Sorry to say, I cannot help all but let me know either by email (info[at]sannayak.com) or posting a comment here if you are in need of donations. I will try my best to help you though. People who are ready to help can leave me a message as well, if I need any help then I will contact you guys.
04/09/2010: Today I received the first thanking note from a person to whom I helped, i have no words what i feel about it. There are many things in life that i have trouble in expressing and this is one out of it. Thanks a lot to Dr. Suman who could make me reach to the needed person. This note is written in oriya so I am translating it here if you don't understand the language or can't read it.
"Mr. Sanketa Nayak, I will be ever obliged for the donated money that I received from you through Dr. Suman Das towards my wife's treatment. May God bless you. Prakas Maharana"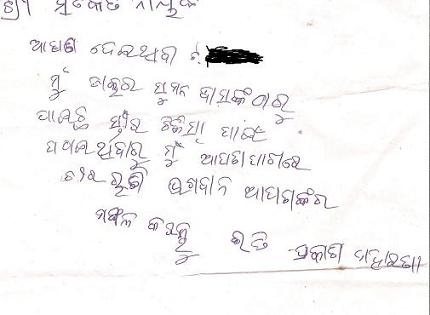 That was so sweet of you Prakas, I pray God for your wife's faster recovery.
08/27/2010: It hurts me, the reason i am fighting against is winning again and again. I came to know from Dr. Suman that Prakas lost her wife. I have to work hard....
12/01/2010: Donated $xx to Leukemia and Lymphoma Society.
03/17/2011: Japan Tsunami scared me a lot, for a second I felt like this life is very unpredictable. I just extended my little help to them by donating $xx to Japan Earthquake and Tsunami Relief Donation via MissionFish.
03/29/2011: Donated $xx to Little Giraffe Foundation, Ltd.
<< A Must Watch Video for Inspiration by Professor Randy Pausch - Last Lecture