Setting My Blogging Goals for 2017
Blogging Strategy for 2017
Howdy bloggers, wait a minute. Why did I say "bloggers"? I believe if you are reading this, then you own a blog or a wannabe blogger. Either case, you fit the phrase. I started my blog way back in 2008 but I kept neglecting this for several reasons and none of them are genuine enough to be quoted here.
Better be late than never, finally I am all set to set some goals for myself to keep this blogging going on. I love writing and don't expect me to be grammatically correct in all my blog posts. I admit I do mistakes and my grammar is horrible. Wait a minute, what you expect from a software developer?
Why you need a blogging goal?
You must be thinking, what a non-sense? Why will one need to have a goal for blogging? Tell me why not? I have seen people blocking time on a calendar for any odd reasons, then why should I not block my time for blogging? Without dedicating some time and plan for it I can't keep this going, so I need to add this to my plan of action. Well, why you need a goal then? I need it because of 2 reasons, being a developer I need to see what is the outcome from each of my efforts and keep a log of my knowledge, experience, etc.
Goals for 2017
People say, set a target that is not achievable so that you land at a point where it looks fair enough to you. I doubt if I will follow the same rule here, I am thinking of a realistic target that will work well with my family, work and leisure time. I have 6 goals for 2017, they are documented here but not sure about the priority. Some might run parallel and rest might go up and down with the time.
Goal 1: How many articles/posts I will write per week?
Should I write 7 posts a week? No, I think this will unrealistic in any sense. Neither I have time nor I can add quality trying to achieve the target. I will settle on writing 2 posts a week. I might miss the target but I will not try to make up a post by writing something that doesn't add value here. You can set your target depending on how much time you want to dedicate to blogging.
Goal 2: Connecting People
I am not that social but I am not an inconsiderate guy as well. I have 704 friends in Facebook and I don't have a fan page on my name yet. On Twitter, I have 712 followers and I am following 86 as of now. I have 271 connections on LinkedIn and I have no other social presence as of now. I would like to bump it with 50% in 2017. Will I be able to do this? 50% increase seems to be too much, right? No, I think, it is achievable as I am at the low end, I will not be able to replicate it in 2018, but it is quite possible in 2017. What about you? Figure out, what you can do.
Goal 3: Engaging visitors on my Blog
One should engage with the site/blog visitors; it is a great place to build long-term relations. I must engage with them and make them talk to each other to build my world here. There are few ways to engage the visitors:
Reply to each concern that is posted on the blog by visitors.
Let them signup for the newsletter, that will be used to intimate them what is going on at my end.
Guide them to related posts that I wrote.
Guest post is a great way to open your platform to another group of people who are totally new. Writing a post on others' website will also do the same, this is a little bit of promotional activity. I am not very sure if I will allow anyone else to write a post here, I will decide with the time.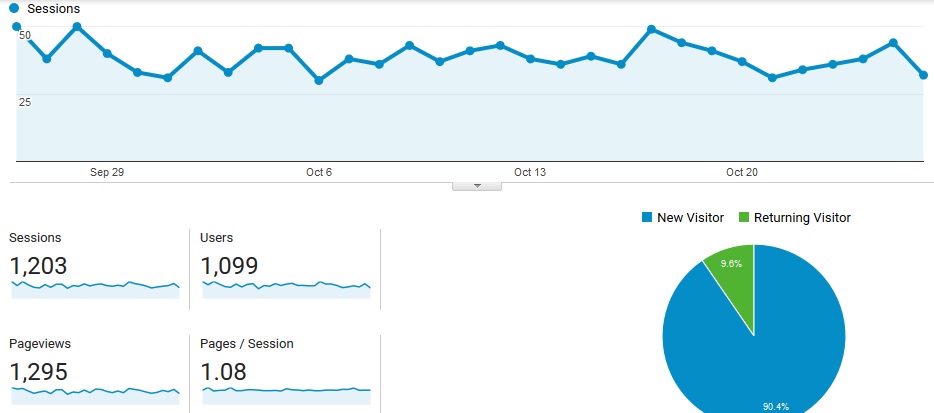 Goal 4: Increasing user session duration and pages/session
These are the two that one should be very serious about. You can see these metrics using Google Analytics or any other analytic tool that you are using. If someone is visiting my blog then, he/she currently spends about 29 seconds, I would like to double it. This means visitors will start liking my blog more and spend 20% extra average time here. Pages/session is another that you should care about, if you give them related and authentic information, the they will start browsing multiple pages from your blog/site. It will also help in increasing session duration. I am going to increase my pages/session from 1.08 to 1.25.
Goal 5: Redesigning the blog, possibly move to WordPress.
If you own a blog then, you must know WordPress is the most popular free blogging platform available right now. Trust me it is awesome. I am currently hosting this site on windows server with help of my own code written in classic asp. I will move this blog to WordPress in 2017 for sure.
Goal 6: Increase the traffic
Traffic for this blog is reduced a lot over last 2 years, current stats look like 1200 sessions per month. I would like to increase the blog traffic by at least 100% in a year. What does it mean? This means I want to double the traffic of this blog in 2017. It can be more than that but I am setting a low-end target for myself. You got to do your task here, check the google analytics to figure out how much traffic you have it today and how much you can increase in a year from now.
Monetary Benefits
Blogging is my passion, I am not doing it for money. This is an awesome way to systematically log your learning and knowledge so I don't look forward to finding ways to monetize this.
Open Questions:
Should one create a blog for making money?
My English is not good, should I create a blog and write?
Having a blog on my own domain will cost me, should I go to Blogger, WordPress like blogging platforms?
Should you encourage guest blogger to write on your blog?
I write well but my post doesn't drive traffic, what I need to do?
<< A Simple Guide to Troubleshoot Your BSNL DSL or Broadband Internet Problem