How Do I Exchange iPhone 3G with iPhone 4
I bought 2 iPhones on May 26th, I was just planning to exchange it for iPhone 3GS but Apple launched the new version iPhone 4. AT&T started the pre-order process on Jun 15th but I failed to order it that day, I thought I will be making it on 16th because of the crazy demand and longer waiting time. Now I think I took a wrong decision as I am really fighting hard to get an iPhone 4. From my online research and chat with customer care representative I figured out I can only get my iPhone 3G swapped with iPhone 4 on the launch date (Jun 24th, 2010).
Update (06/23): AT&T store rep says 30 day exchange is extended till 29th and I will make sure to be in line.
Update (06/29): I woke up at 3.20AM to stand in the line for the iPhone 4 and left my home around 3.45AM. By 4AM i wan first in the line at 235 W MONROE ST(AT&T Store). After 3 hours of waiting they said I have no receipt of the purchase and they can't help me. I asked if i can use a system there to get a print, they denied. I begged the manager to hold the phones till i get the printouts from my work place. I had to rush and get them the prints in 20-25 minutes. Finally they handed me 2 iPhones at 8AM today. I am still waiting for the service at 10.17AM. Hopefully my phone will ring soon.
I have 30 days to exchange or return my iPhone to AT&T so I will be on 28th day on Jun 24th. I have a small strategy to buy the iPhone 4 on June 24th, I have to plan it ahead as I the demand is huge and I might miss it again.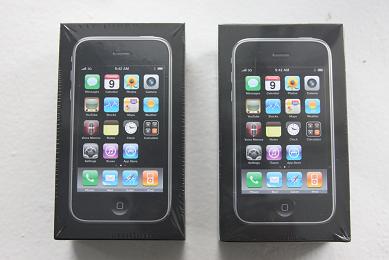 I have 4 locations to buy from are Walmart, AT&T Store, Best Buy & Radio Shack. I will skip Radio Shack and try with rest 3 locations. Walmart opens early in the morning at 6 AM so I will start with it. I will wake up by 5 AM and reach the store by 5.45 AM. I will call the local Walmart store to verify the store opening time and if they sell iPhone or not. It is 7 Miles away from my home and here is the detail of the store.
4650 W North Ave
Chicago, IL 60639
(773) 252-7465
If anything goes wrong then I have my 2nd backup plan, I will go to a AT&T store that is next to my work place. I already visited this store for 2 times, I know this store opens at 8 AM and I hope they should swap my iPhone at least.
235 W MONROE ST
CHICAGO, IL 60606
Phone: (312)920-0414
Hours: MON-FRI 8:00-6:00
If I fail to get one iPhone 4 from the AT&T store because of the insufficient stock or something like that then I will proceed to Best Buy. Store will open at 10 AM and I will have enough time to reach the nearest one. Here is the closest Best Buy store location.
South Loop IL (Store 1142)
555 W Roosevelt Rd
Chicago, IL 60607
Phone: 312-733-6635 (10-9 Thursday)
I have 2 hours interval in between my backup plans, if I miss to get one from Walmart then I will try AT&T store, if I fail at AT&T store then I will run to Best Buy. If I miss at all the locations then I will call the customer care. Good luck to me and thumbs down to AT&T and Apple who are making my life miserable for an iPhone 4.

A Simple Guide to Troubleshoot Your BSNL DSL or Broadband Internet Problem >>
<< How to Install Wordpress on Windows Shared Server from Verio