Spicy Chili Chicken Curry
Chili Chicken, I always loved this curry and finally my wife cooked it for me for the first time. I thought this will be interesting to learn and write a post on how to cook this. I remember about my teen age when I was totally crazy about chili chicken, I used to visit my friend's home and ask her sister to cook for me. I used to visit different restaurants to try this curry, finally I learned this and here is the recipe for cooking this at home.

Chili Chicken Recipe:
- 3/4 lb (330 g) chicken (I prefer boneless chicken)
- 8 onions (I prefer more onions)
- 1 capsicum
- 4 small green peppers (4 chilies)
- 1 tbsp ginger paste
- 1 tbsp garlic paste
- 1/2 tbsp salt (depends on your taste)
- 1/4 tbsp red chili powder
- corn flour
- soya sauce
- tomato sauce
- vegetable oil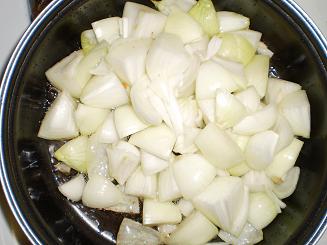 Cut your chicken in small pieces and add some salt, chili powder, ginger paste, garlic paste to it. Remember to cut the chicken to half the size you want to see in your curry because this gonna pop after cooked. Marinate it for 15-20 minutes. Now start chopping the onions, make the onions to 8 pieces. Fry the onions adding little salt to it, you can drop the green pepper when onions are turned little red.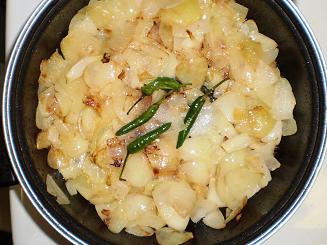 Add 2 tbsp soya sauce and 6-8 tbsp tomato sauce to the fried onions. You can also add the capsicum here if you like it, I don't like so I skipped that in my curry. Let it cook in a low flame for 3-4 minutes and switch your attention to chicken in the meantime.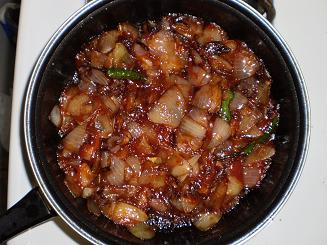 Add 8-10 tbsp of corn flour with little water, mix it carefully as you might add more water and make the mixture very light.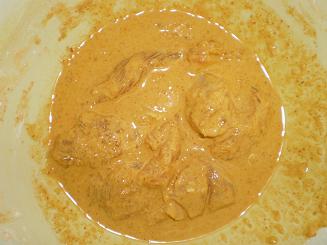 If you add water carefully then you will not turn up in wasting any corn later. You can dip the chicken pieces to this corn mixture before frying it in vegetable oil. Wait till the fried chicken turns to be red as it is shown in the picture. Be careful while frying the chicken as the water from chicken can lick at anytime and causing to split the hot oil on you.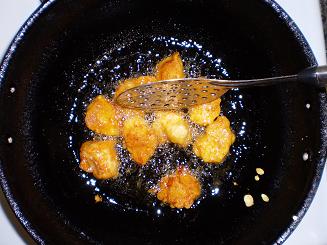 Once the chicken is fried mix them to the cooked onions and cook it in low flame for 5-7 minutes. I love to have chili chicken gravy styled so I added little water while adding the chicken to the onions. Here is your spicy chili chicken ready to be served to 4 people with fried rice / chapatti / paratha.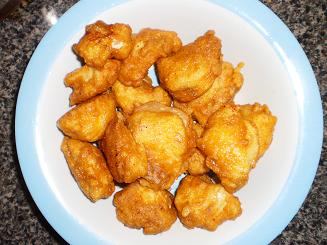 Cooking Ladyfinger and Peas Spicy Curry >>