How to Cook Chicken65
Cooking time, here is chicken65 from my wife for you guys. I hope you all will enjoy as I enjoyed a lot.
Life is a learning curve and here it is really encouraging for me because I am very novice at cooking, I cook various things and learn as much as I can. I love chicken dishes hence it also makes me learn more recipes on it. I found a yummy dish named chicken65, it takes less time to cook than other chicken dishes. Chicken 65 is very popular in south India as it is believed to be started from there. Let me tell you a funny story behind this chicken item, I was really confused by the name, my friend said it as "Chicken 65". So what I did, searched the web and looked for chicken 65. Wow, do you know what I see now? Some says the chicken needed to be 65 days old to taste good. Well, how would I know the age of the chicken that I just bought from the market? I also found an article that says the recipe needs 65 ingredients to cook, I lost all my interest reading these and thought to give up. Isn't it really funny? Lol!!!
It is a fresh search from me and this time I named it chicken65 so got the correct recipe. BTW I got to learn from web that this funny name came from a military canteen. Normally people in defense use number for food items instead of real names, the recipe use to be at 65th place so it became popular as chicken65. Don't worry this dish don't need 65 ingredients anymore.
Recipe for chicken65 that can be served to 4 people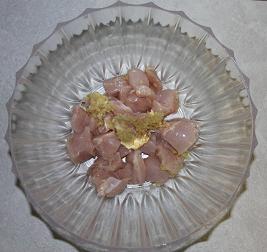 Chicken – (1lb) (I prefer boneless chicken)
Sliced green pepper – (2 regular size) (hari mirch)
Regular cumin seeds – (½ tbsp)
Coriander leaves – (5-6 sticks)
Red chili powder – (½ tbsp)
Egg – (1)
Curry leaves – (5-6 leaves)
Salt - (As per taste)
Cumin powder – (½ tbsp)
Ginger and garlic paste – (1 tbsp)
Red food color (if u like)
Chili garlic paste – (2 tbsp)
Corn flour – (3 tbsp)
Chopped garlic – (1 tbsp)
Chopped ginger – (½ tbsp)
Black pepper powder - (½ tbsp)
How to Cook Chicken65? Here is the process to cook delicious chicken 65 at home.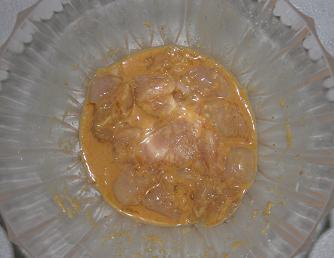 Cut your chicken in small pieces and add little bit of salt, ginger garlic paste, chili powder and corn flour to it, marinate for 20-30 minutes. Then add the egg to it and mix it well. Egg just gives a nice coating to the chicken. Then fry the chicken in the hot oil, see the image how it looks after it is fried. Add little oil in another pan and add some cumin seeds to the pan when the oil gets hot. When seeds start crackle add chopped garlic and chopped ginger to it..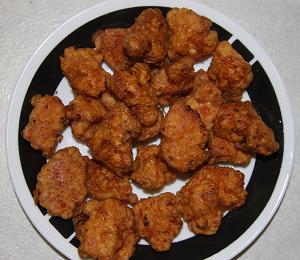 Then add curry leaves, coriander leaves, and chopped green chili all together You can also add more ginger garlic paste and mix all the remaining spicies to it. When the mix gets boiled and starts leaving the oil add the chili garlic paste. If you want you can add red color, I usually add the color because I like to see the cooked chicken beautiful. Just before mixing the chicken add little water so that you can mix them well, remember to add very little water. Cook the chicken for 2-3 minutes or you can wait till you see the chicken getting dried, now your chicken65 is ready to be served. Before serving sprinkle little lime juice because it will raise the taste of chicken more.