Making Paneer from Milk for Indian Paneer Curry
Are you wondering about the topic? You might be thinking what the hell San is talking about. I always thought about making some cheese that is good for Indian paneer curry but didn't get enough time and interest. Finally I have done it and here is a guide on how to prepare paneer for Indian curry. You can also save money by not buying paneer from the market.
Before even learning the process one should know why he/she should prepare paneer at home when one can buy it from the market.
Here are some reasons:
1. It is fresh so it will be tastier.
2. Homemade paneer is cheap.
3. If you are living outside of India then it is hard to find such cheese in the market. All that you get is tofu.
4. You can make it hard/soft according to your requirements.
5. You can also use the extracted water to make some pure ghee.
Why I wanted to make this paneer at home? I got gallons of milk that was damn cheap like US$1.5 per gallon. I always wanted to learn more on making some Indian sweets at home that require lots of paneer. I also wanted to know the trick behind preparing cheese for Indian paneer curry.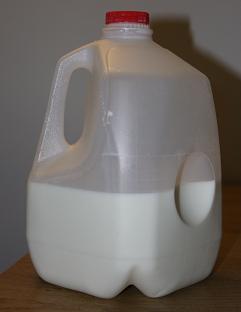 What you require for curry suited paneer?
- Milk ( 2 lts / ½ Gallon)
- 2-3 lemons(depending on size) or vinegar
Put the milk to boil and add the lemon juice/vinegar when you see the milk bobbling for the first time. Let the milk to boil for some time, on needed add more lemon juice but do it before you leave the milk to boil for 4-5 minutes.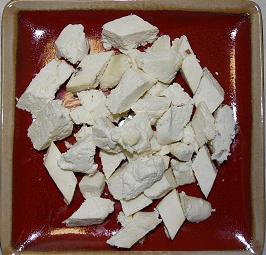 After 5 minutes you will notice cheese is separated from water, to make them come together add some ice cubes and turn off the heater. Collect your paneer in a cotton and tie it hard. Later keep the paneer covered cotton under a bowl filled with water. The theory behind this is to extract remaining water from the paneer and make it hard. You can pick your own ways to extract the water but the best way is to keep something on the top of it that is really heavy. After 2 hours the paneer is ready to be cooked. I hope this helps you. I just spent $2 to make paneer that is worth of $8 and it is fresh as well. I will also write on various Indian sweets and paneer curries that I made along my wife from this extracted cheese.
<< Cooking Ladyfinger and Peas Spicy Curry